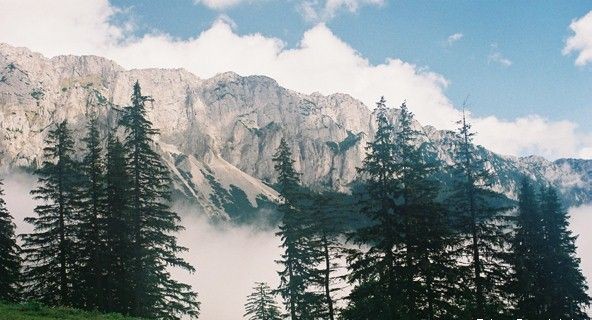 | | |
| --- | --- |
| Location | Southern Carpathians (Arges and Brasov counties) |
| Size | 91,000 acres |
| Best known for | The most spectacular ridge in the Carpathian Mountains. The backdrop scenes filmed here for the movie Cold Mountain |
| Natural features | Caves, Meadows, Rocky steep walls, Spruce forests |
| Activities | Caving, Hiking, Horseback riding, Horse carriage / sled strolls, Rock climbing, Wildlife and bird watching |
   Park Highlights
Piatra Craiului Natural Park features the longest and highest limestone ridge in the country (over 15 miles long and 6560 ft. high). Bordered by glacial lakes, the ridge is regarded as one of the most beautiful sights in the Carpathians. The two-day north–south ridge trail is both challenging and rewarding. Starting at either Plaiul Foii in the northwest or Curmatura in the northeast, hikers climb up to the ridge along the narrow spine of the range. The descent at the southern end leads into a karst landscape of deep gorges and pitted slopes where water penetrating the rock has carved a series of caves.
The traditional villages of Magura, Pestera, Ciocanu, Sirnea, make for interesting starting points for the routes on the eastern slope and for getting in touch with the traditional Romanian way of life.
Natural attractions
Zarnesti Gorges
Dambovicioara Cave
Flora and Fauna
Sheltering one of the largest biodiversity of wildlife in the country, the national park is home to about 300 fungi species, 220 lichen species, 100 different mosses, and 1100 species of superior plants (a third of the number of all plant species found in Romania). On the high cliffs there are chamois, wild boar, red and roe deer, pine martens and red squirrels. Some 270 butterflies species, 110 birds species, 17 bats species, many large carnivores (wolfs, brown bears, lynx) can be observed in the park. The gorges are a good place to see wallcreepers and alpine swifts, three-toed and white-backed woodpeckers and Ural owls in the forested areas.
Nearby Attractions
PARK ESSENTIALS
Main access points
Bran
Cheia
Dambovicioara
Magura
Moeciu
Pestera
Podu Dambovitei
Satic
Sirnea
Zarnesti
How to get here
» By air
Nearest airports located in:
» By car
Zarnesti, located 18 miles southwest of Brasov and accessible both by road and by railway, is the most important town for access to the northern part of the ridge. From Zarnesti, a 6-mile road makes the connection with Plaiul Foii; a forest road starts from the southwestern part of town, going through Prapastiile, Valea Cheiiand Valea Vladasca.
The villages of Magura, Pestera, Ciocanu and Sirnea are starting points for hiking routes on the eastern slope. Podu Dambovitei is the point of approach from the south. From here, the national road DN 73 branches off to the road on Valea Dambovitei through Saticu de Jos and Saticu de Sus, from which several hiking routes lead to the western slope of the Southern Ridge.
» By train
Nearby railway stations: Zarnesti
Train schedules: To check the latest train schedules for domestic routes please visit the website of the Romanian Railways: www.cfrcalatori.ro
The site has complete information about domestic train schedules and fares.
Note: For departures from/to Bucharest please select Bucuresti Nord.
Accommodation
Camping areas
Mountain chalets
Tourist pensions in the villages located within the park (Pestera and Magura) and in the surrounding communities (Zarnesti, Moeciu, Sirnea, Ciocanu, Podul Dambovitei, Dambovicioara and Satic)
Tourist info
Piatra Craiului National Park Administration
Tel: (268) 223.165
Email: [email protected]
Web: www.pcrai.ro/index_en.html