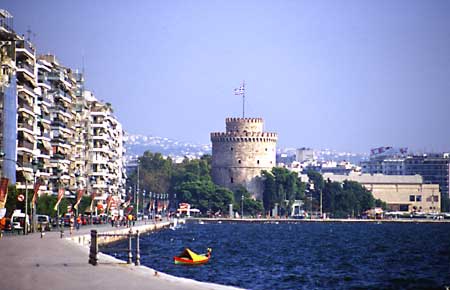 Amphitheatrically built around Thermaikos Bay, the cosmopolitan city of Thessaloniki is the second largest city in Greece and constitutes the most important centre of the wider area. It is situated on sea and land crossroads and constitutes a significant centre of attraction as a cultural metropolis of the Balkans. A modern city with irresistible charm and the aura of Vardaris, Thessaloniki is an ideal destination throughout the whole year and has some well-hidden secrets worth finding out…
A walk at the capital of Macedonia will reveal roman monuments, beautiful Byzantine churches and neoclassical buildings to the visitor's eyes. Its symbol, the White Tower, which once constituted part of the seafront fortification of the city, is now a Museum for the History and Art of Thessaloniki (currently not open to the public).
The famous and overcrowded market places of the city, Modiano and Kapani, overflow with scents and colours since they have any kind of foodstuff for the local people as well as the visitors.
Endowed with intense cultural heritage and internationally established museums, vivid artistic activity and tradition in good food, Thessaloniki has endless choices to offer to its visitor. A walk along the seafront promenade enjoying a dreamy sunset is an experience that noone should miss and will fill you with pictures strong enough to make all your problems disappear…
Sightseeing in Thessaloniki
The Roman agora (forum) is found in the south of Agios Dimitrios church – where  Dikastirion Square is today – and belongs to the 2nd – 3rd century A.D. The entrance to the agora was on Egnatia Street via the imposing stoa of the "Eidolons", where exhibitions take place today. You can also visit a big cobbled square, the conservatory which operates as a summer open theatre and roman baths.
Rotonda (Filippou and Dim. Gounari Street):  a circular church with a diameter of almost 24m., covered by a semi-spherical dome built in 306 A.D and believed to have been the Pantheon or the Mausoleum of Galerius. Its mosaic walls are very interesting and today the building is used as a church as well as an exhibition center.
Kamara or Galerius Arch (Egnatia and Dim. Gounari Street) was built a little before 305 A.D. in memory of Galerius' victory over the Persians in 297. The monument had 4 gates as there was another arch next to this with a dome which still exists today. In the sculpted marble slabs one can see depictions of the Romans' victory against the Persians.

| | |
| --- | --- |
| | The imposing Galerius Arch |

The Palaces of Galerius (Dim. Gounari street – Navarinou Square) were built in 300 A.D and today in this place there is a two-floor quandrangle complex with a rectangular central open yard.


The Palaces of Galerius at Navarinou Sq.

The forts of the city constitute one of its most magnificent monuments. The walls preserved until today were built during the years of Theodosius the Great (4th century A.D.) and had to be restored many times due to the numerous invasions.

Ahiropiitos Church ( Agias Sofias street) is a wooden-roof Basilica with three aisles built in the mid-5th century on the relics of a roman bath,in which you can admire the sculpture, mosaics and paintings.

Agia Sofia Church ( Agias Sofias street): it is a rectangular temple divided into three aisles with tessera and columns supporting the dome, built in the 7th century.

Aghia Sofia Church

The small temple of Osios David is found at Ano Poli (end of Agias Sofias street) and is a buiding of the 5th century, once a catholic one belonging to the Monastery of Latomou.

The church of Panagia Chalkeon (Egnatia street) took its name during the period of the Turkish occupation because there were many copper-workers' shops in this area at the time.

Saint (Aghios) Dimitrios Church (Agiou Dimitriou street) was built in the 7th century by the bishop Ioannis on the relics of an older temple. It is a five-aisle Basilica with a cross aisle and a decoration rich in painting and marbles.

The church of Aghios Dimitrios, patron saint of the city

In the underground crypt of the church there is the place of Saint Dimitrios' martyrdom which has been operating as an exhibition place since 1988 with a collection of sculptures, capitals, parapets and pottery from Agios Dimitrios Church.

In Koule Kafe Square (Ano Poli) there is the only Byzantine bath left in the city which was built in the end of the 13th century.
The White Tower – the symbol of Thessaloniki standing on the waterfront boulevard of the city – was built in the middle of the 15th century by Venetian builders and was a part of the city's fortification.


White Tower, symbol of the city

It was used as a garrison and a prison and this was the reason that it acquired the name "Tower of Blood". Today it periodically houses exhibitions of the Byzantine Culture Museum (temporarily not open to the public).

Paradeisos Baths – Bei Hamam (Egnatia str. – Aristotelous Square): it is the first Ottoman bath built in the city (1444) consisting of separate men and women sections. It has a big cool chamber, a small interim one and  hot private rooms with marble basins and low seats.
OTE Tower: it was built in 1969 at the entrance of the International Trade Fair to house OTE stall. Today the visitor can enjoy a magnificent view of the whole city from the cafe operating inside the tower.

OTE Tower, located at the entrance of the International Trade Fair

Statue of Alexander the Great: it is on the seafront promenade, near the fully-renovated Royal Theatre ( it hosts the National Theatre of Northern Greece) and was placed there in the 1970s.

Museums of Thessaloniki

There are many museums worth visiting in Thessaloniki, the most important of which are:  Archaeological Museum, Museum of Byzantine Culture, War Museum, Museum of the Macedonian Struggle, Ataturk Museum, Museum of Cinematography, Museum of Photography, State Museum of Contemporary Art (Moni Lazariston), Macedonian Museum of Contemporary Art, Museum of Ancient Greek, Byzantine and Post Byzantine Musical Instruments, Folklore and Ethnological Museum of Macedonia and Thrace, Water Works Museum, Railway Museum, Natural History Museum (Kedrinos Lofos), Teloglion Foundation of Art, Sports Museum.

How to get there

• By plane: Aegean Airlines has 11 daily flights lasting approximately 45 minutes from and to Athens and the ticket prices start from 25 € one way but you have to book quite in advance ( there is a restricted number of cheap tickets and the time flight is usually not suitable). Olympic Airways also has daily flights from and to Athens. Ticket prices vary according to the availability (starting from 70€ one way) but you can find some offers if you book your ticket well in advance. Thessaloniki is also connected by plane to other cities both in Greece and abroad.

• By bus: another way to get to Thessaloniki is by bus from Athens as there are regular bus routes every day lasting about 6 hours and 15 minutes, always depending on the traffic. You can travel either by Thessaloniki Bus Service (it has more regular routes) or with Attika Bus Service. (Ticket Prices: Normal: 34€ single root, 50€ return ticket. Student: 25€ single root, 40€ return. In Attica Bus Service the return ticket for students costs 25€).

Thessaloniki is connected by bus with most of the big Greek cities. You can contact the official services to find information about the itineraries, the duration of the trip and the ticket prices.• By car: an alternative way to reach Thessaloniki is by car. In that case, you will need approximately 6 hours from Athens to cover the 500 km distance between the two cities, always depending on the traffic there might be.

• By train: another convenient choice is to travel to Thessaloniki by train. There is a railway connection to Athens, to cities in Macedonia and Thrace, to central, west and east Europe as well as to Near East via Turkey.

Thessaloniki Railway Station

There are many train routes departing from Athens, both by Simple Train and Intercity. The trip lasts from 4 hours and 15 minutes to 6-6.30 hours, depending on the train you will travel. It is a comfortable trip and it has the advantage that you won't have to worry for the traffic. Ticket prices start from about 15€.

Advice: In order to avoid long queues at the cashier, you may call and buy your ticket by charging your credit card and receive it by courier with some extra charge.
• By boat: There are routes connecting Thessaloniki with the islands of Limnos, Lesvos and Chios throughout the whole year and with Cyclades and Crete during the summer.
Accommodation
Thessaloniki offers many places to choose from as far as your accommodation is concerned. That's why you should decide on two things before starting your search: the amount of money you would like to spend and how close to the city centre your hotel will be. Below, there are some interesting suggestions worth taking into consideration before visiting the city.


| | |
| --- | --- |
| In Stavroupoli, you can discover Les Lazaristes Domotel, a luxurious hotel that combines art and culture with the services of a five-star hotel. The common spaces and the rooms are decorated withworks of art. Opposite the hotel you can find Moni Lazariston, a cultural centre that houses the State Museum of Contemporary Art. | |

On the other side of the city and near "Macedonia" Airport there is Hyatt Regency Hotel Thessaloniki (5*), a luxurious hotel 13 km from the city centre which can meet the needs of the most demanding guests.

If you don't have a means of transport you might choose to stay near the city centre. Electra Palace is a five-star hotel in the heart of Thessaloniki – on Aristotelous Square – which captures the eyes of the visitor.

Continuing your wandering in the roads of luxury and in the quarter of Ladadika you will findMediterranean Palace, a five-star hotel of 118 rooms offering high quality services and comfort. With a view at Thermaikos Bay, convention centres and a variety of special services for its guests, this hotel will become your base when exploring Thessaloniki.

Some of the hotels found in the western part of Thessaloniki are Holiday Inn Thessaloniki(5*), Porto Palace Hotel (5*) and Grand Hotel Palace (5*) which all combine an ideal location with easy access to the city to a comfortable and luxurious stay.

A new suggestion in the category of luxurious accommodation in the centre of the city isDaios Hotel (5*) on Nikis Boulevard, in the heart of the city's most crowded cafes and shops. Comfort and style are its basic characteristics, while you will enjoy the view of a breath-taking sunset from its balconies…

On the east, Macedonia Palace (5*) is at one of the city's most beautiful waterfront locations offering a magnificent view at Thermaikos Bay.

For those of you looking for a less expensive accommodation in the centre of Thessaloniki we suggest Zaliki Hotel (4*), Capsis Hotel (4*), Anatolia Hotel (4*), Minerva Premier Hotel (4*), The City Hotel (4*), Davitel Tobacco Hotel (4*), Plaza Art Hotel (3*),Luxembourg (3*), Nea Metropolis (3*), Park Hotel (3*), Rotonda Hotel (3*), Olympia Hotel (3*) and Anessis Hotel (3*).

For those of you who have a means of transport and don't mind staying away from the city centre, combining accommodation quality with a good price, you will be happy to choose the newly-renovated (2007) Galaxy Art Hotel (3*) in Oraiokastro.

Places to visit

•  Ladadika: this is the only district of the city to survive the 1917 fire. Due to its location (near the harbour), all the commercial exchanges took place there. The ground floor of the two-floor buildings housed shops without any windows and the products were kept at the loft. After the 1917 fire, only olive oil traders remained there (where the district owes its name). The area came to a decadence in the early 1980s, while in 1985 it was characterised as a preservable area and in 1990 a recreation programme was initiated in the neighbourhood. The buildings have been restored and today the place is full of bars, restaurants and ouzeries that bring the past liveliness back to its picturesque lanes.• Seih Sou Forest: dominating the north part of the city, it is an ideal destination for activities close to the nature. You can enjoy your walk in the green, visit the zoo that has been operating since 1987 in a forest area of about 60.000 square metres or enjoy your coffee at Kedrinos Lofos cafe, looking at the panoramic stunning view of the city. In the summer you shouldn't miss the numerous cultural events taking place at Theatro Dasous(Forest's Theatre), an open amphitheatre in the Seih Sou forest: there is always the case that the imposing view of Thessaloniki by night might distract your attention, but either way it is worth visiting…

• Hortiatis: in the South-East of Thessaloniki and within a thirty-minute distance from the city there is Hortiatis Mountain, at the foot of which you can find the village of Hortiatis, well-known for its many tavernas serving meat delicacies. After rambling in the lanes of the village you can continue towards the mountain shelter which is 1000 metres above sea level. This is the starting point for those who want to go mountain climbing or hiking.• Panorama: it is some kilometres away from Thessaloniki, covering an area of 33.000.000 square metres, in an altitude of 250 metres from Thermaikos Bay. The name of the district is ardently connected to the famous "trigona Panoramatos" (traditional Thessaloniki's pastry) and it is considered to be one of the most beautiful suburbs in Thessaloniki. The name alludes to the panoramic view that locals and visitors can enjoy which, in combination to the forest and the green element of the area, justify its fame as one of the most beautiful areas.

• Thermaikos Bay: around the bay there are some seaside areas worth visiting, the most famous of which are: Aretsou, Nea Krini, Peraia, Neoi Epivates, Agia Triada, Nea Mihaniona and Epanomi.

• Lagadas: in the South and in a distance of 20 km from Thessaloniki you can find Lagadas that is well-known for Anastenaria, a traditional fire-walking ritual. In Lagadas and Nea Apollonia you will also find thermal baths offering relaxation and rejuvenation to the visitors.

• Vergina: the ancient city of Aiges was discovered here. Aiges was the capital of the Macedonian Kingdom until 400 B.C, when Archelaos transferred the capital in Pella. Here, you can see the royal graves discovered by the archaeologist Manolis Andronikos in 1977-78. (Distance: 75 km from Thessaloniki, 12 km from Veria).

• Thermal Baths in Agkistro (Serres): close to the Greek-Bulgarian borders in the way to Promahonas and in a 130 km distance from Thessaloniki (11/2 h. by car) you will find Agkistro Thermal Baths: the old hamam, a dome-roof stone building dating to 950 A.D. is the centre of attraction of the area. It is the favourite weekend destination for many people (especially those living in Thessaloniki) who can enjoy a unique experience at a low cost (30 minutes in the hamam cost 5 euros per person).

• Lake Volvi: it is the 2nd largest lake in Greece and one of the 11 protected Greek wetlands of international significance with clean waters and a rich flora and fauna.

• Delta of Axios River: it is in an 18 km distance west of Thessaloniki and is one of the most important wetlands in Greece, protected by the Ramsar Convention on Wetlands signed in 1971. It covers 22.000.000 square metres and hosts many bird rare species ( herons, swans, cormorants et.c). Due to the fact that the conditions for mussel cultivation are ideal, there are many mussel crops in the area.

Where to eat in Thessaloniki

From the first moment you arrive at Thessaloniki you will understand that it will be difficult for you to decide what and where to eat first, since there are many gourmet suggestions and time and appetite is the only thing you need (Greeks always spare both)! The gourmet map of the city can satisfy any kind of taste and demand, while some of the specialties of the city are patsas soup (tripe soup), peinirli, sea food and especially mussels (fried and with rice), roast chicken and soutzoukakia (minced meat pellets).

Politiki cuisine, which is the legacy that Greeks living in Asia Minor brought with them after the destruction of Smyrna in 1922, has an important role to the city's gourmet choices.
The Greek cuisine has been greatly affected by the Asia Minor and Politiki cuisine, the basic ingredients of which are the spice and the good mood during the preparation of the dishes which are remarkably delicious.

Below we offer you some suggestions representative of the kinds of cuisine you can find in the city. In Thessaloniki the taste delight begins in the morning from the breakfast, which is considered to be the most important. We can't stop eating the famous "koulouri" (with sesame) and bougatsa, either sweet (with creme, sugar and cinnamon) or with cheese, always depending on what you want to eat.

If you prefer ouzo, mezes (selection of appetisers or small dishes taken with alcohol) and other delicacies the best choices are Athonos Square, Louloudadika (a district with flower shops), Bit Pazar, Modiano market or Ladadika where you will find many restaurants and taverns with a delicious cuisine.

| | |
| --- | --- |
| Another choice in the same style but with a very creative cuisine and a different note is Ouzou Melathron on Venizelou street where it will be difficult to find somewhere to sit, especially at the weekend and at busy hours, although there are 3 different taverns at the same block. | |

| | |
| --- | --- |
| | For the lovers of oriental and politiki cuisine there is Molivos on Iasonidou street and Tiffany's, a standard quality restaurant at the centre of Thessaloniki on Tsimiski street. |

On your way to Ano Poli, it is worth trying meat in one of the traditional taverns in Kastra. You can also eat meat dishes and other delicacies at Navarinou Square, where food is not served in conventional plates but in ladokolla (grease wrapping-paper).

Tavernas at Ano Poli – Kastra

If you find yourselves in the suburb of Hortiatis don't miss the meat specialties that make many meat-lovers visit the taverns of the area. If you love chicken you should chooseHalaro Restaurant in Kalamaria in a more formal style, specialising in chicken dishes.

For seafood and fish you can choose one of the fish taverns in Aretsou, Nea Krini and Nea Mihaniona.

| | |
| --- | --- |
| In the centre of the city you will also find "7 Thalasses" (7 Seas) on Nikis Boulevard as well as Sea Food Restaurant in front of Macedonia Palace Hotel: they both offer a refined atmosphere combined with a breath-taking view to the sea and delicious food. | |

Another choice for fish lovers is Peraia, where you can enjoy your food next to the sea: it is an ideal location especially in the summer when most of the tables are on the beach, bearing great feelings to its visitors. The fish tavern "O Thomas" is our favourite place in Peraia since it offers delicious food with a very nice interior decoration.

On Paleon Patron Germanou street there is Tres Marie, an Italian restaurant with a very nice environment and an open kitchen where you can enjoy your meal and buy products to make your own Italian dishes for your friends.

Thessaloniki has many high-quality restaurants with a Mediterranean and international cuisine. Here are some of our favourite ones: Naftikos Omilos and Interni on Nea Paralia (New Beach), Garcon Brasserie on Nikis Boulevard, Times near  YMCA, Kitchen Bar at the port. Except for our suggestions, it is always up to you to discover your own gourmet treasures.

However tasty the food may be, the dessert constitutes the best part in a meal  for many people and Thessaloniki really favours this opinion. In most of the restaurants you will be offered a piece of the city's traditional sweet delicacies such as kazan dipi, halvas, karidopita (walnut cake) and chocolate, ice-cream and cream crepe. In the case that these delicacies don't quench your thirst for something sweet, you should try one of the following:

| | |
| --- | --- |
| Trigona Elenidis that make the best Trigona Panoramatos,  Terkenlis tsoureki with many flavours and the old traditional Hatzis andAgapitos patisseries (they both have branches in many areas of the city) as well as Averof patisserie on Vasilissis Olgas street. | |